Eulogy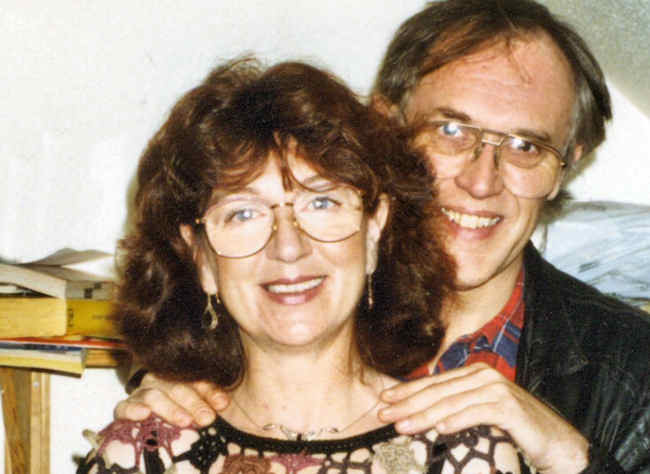 This is the eulogy delivered by Mel at the Funeral service.
On a warm late summer evening in 1988 (give or take a day or so - exactly 21 years ago) I met a very special person. It was Kathy - a shapely brunette with a pretty face, twinkling eyes, a lovely laugh, a warm personality and a very intelligent mind. We clicked immediately - but the evening ended with an announcement that she had to get back to watch the TV because there was a programme about Korean art and culture.
Kathy was no bimbo.
Kathy was born on July the Third. Her mother always said that she had just missed independence day. But she made up for that as the years went by. Always a bit of a rebel, always an independent thinker - and someone who did not give up easily on anything.
As she would be the first to explain - the key to Kathy was her childhood.
She was brought up in a small council flat near Wembley Stadium, but she often spoke of Ireland - and you might be mistaken for thinking she had spent most of her childhood in a village in Kerry, where the mountains slope gently down to the sea. You don't get that kind of scenery in Wembley Park. Harrow and Wealdstone possibly - but not Wembley Park.
Her mother was Irish and passed on an Irish temperament that loved to chat, dance, laugh, sing and share a good yarn by the fireside.
But Kathy's relationship with her mum could also be very difficult - and from it grew an interest in psychology and ultimately a dedication to counselling. She became committed to easing mental pain and anguish. She wanted to make life better and happier for all people. Her outlook on life was always positive.
From her English father came an inquisitive intelligence, an artistic talent and a dreamy romanticism. He could take a few bits of wood and knock up a scale model of a galleon in half an hour - or produce a sketch of a steam locomotive that was good enough to be published in any magazine. Kath inherited those abilities. But while her Dad stuck largely to ships and trains, Kathy's vision was much wider.
Art was her passion. She loved art of every kind - from sculpture and painting through to music, drama and literature. She didn't just like those things - she could also do them.
Kathy was a highly skilled teacher - frequently described as inspirational. She used empathy, creativity, art and imagination as key tools in her classroom. She knew they were a way of engaging even the most troublesome of pupils. It will be no surprise to you that in 1971, when Kath qualified as a teacher, she did so with a distinction.
Kathy was always a brave person. Not afraid to challenge and always ready to stand up for what she thought was right.
That brave and positive sprit shone for two and a half years through the darkness of her final illness. And it wasn't her first. She'd had to retire early from teaching because of rheumatoid arthritis. She was always good at hiding her pain in public, but many times I have seen the agony she suffered in private.
Positive as ever Kathy decided to make the best of her forced retirement. She signed up for a degree course in art - something she had wanted to do all her life.
She also started training as a professional councillor. Scores of staff at Poole hospital benefitted from her empathy, understanding and wisdom. Altogether she gave the National Health Service a thousand highly skilled but unpaid hours.
The final step in transforming her life was a job working on a new scheme for the National Childrens Home - or Action for Children as it is now known. It combined all her personal, counselling and teaching skills as part of a team working with parents and children with difficulties. She loved it. It was her dream job, and represented many of the things that she thought most valuable in life. But one day she felt unsteady on her feet - and within weeks, together with the art degree, that dream was gone too.
Kathy was a complex and passionate person. Always entranced by the new - yet intrigued by the power of things gone by.
Kind and loyal, she was a warm and loving mother who bought two fine boys into the world - and they in their turn display all her best qualities.
Compassionate and generous - she made people welcome and easy in her company - she had a gift for bringing people together. Even in her worst moments she tended to think of others first.
In the course of her life she touched thousands of peoples lives - in every situation … from the classroom through to the Winton Carnival. As so many people have said to me in the last few days - the world is a better place for having had Kathy in it.
And at this point I know Kathy would insist on me saying some thankyous. There are scores of people we could thank not just for giving her at least a year of extra life, but also for allowing time to be quality time. Kathy and I were both agreed that last year was a wonderful and very special year - not least because it was one that we didn't expect. It was a year in which our relationship grew closer than ever and in which we were able to achieve things which an ordinary working life would have prevented.
We would like to thank the doctors and staff at the four hospitals where Kath received treatment. The Community Palliative Care Team, the district nurses, the Marie Curie nurses and of course Jane Martin and the MacMillan unit who were in there with us right from the start. To all of them for their kindness, dedication and professionalism - from the heart - thank you.
To me, among so many many other things, Kathy was not just my partner, my wife, she was quite simply the best friend I have ever had. We were with each other in the darkest of times and shared endless laughter in the silliest. On the silly note, I just think of the weird tunes and increasingly complex steps of the Irish dances she started to teach me in the kitchen - and how I could never get them right - only to realise eventually that they were not traditional dances at all - she was making them up - and changing them - as she went along. Kath thought that was very funny. And just in case you're wondering - yes - the increasingly elaborate Irish dancing lessons went on for years and years - usually ending with us both shaking with laughter.
I've only given you a tiny glimpse of Kathy - so how to sum her up. Impossible - but to quote one the Marie Curie nurses who looked after her she was beautiful, talented, gifted, warm, generous, caring, thoughtful, intelligent and very special. And I would also add the word "brave". She was very brave - but would never ever consider herself to be a victim.
A few months before her brain tumour was diagnosed Kathy went with her art class to the Venice Biennale. While she was there she wrote something in her notebook which turned out to be deeply ironic. It was a question consisting of ten words - and these are those words:
"How do I communicate the sheer joy of being alive?"
She didn't need to ask that question. Kath did it simply by being who she was.
Kathy, my dear beautiful brave wife, we shall all miss you so much.
Make a donation to