Return to Ireland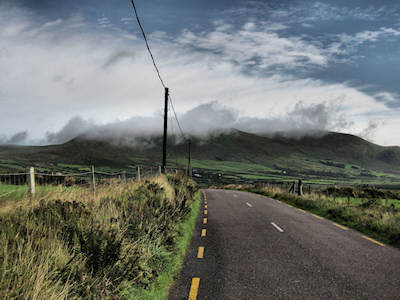 Kathy was born and raised in London, but much of her heart was in Ireland. Her mother was a McCarthy from a little village called Emlagh on the Kerry coast.
In the school holidays and later, there would be an annual visit to the family home. It was a small farm house overlooking Ballanskelligs Bay and just a short run through grass and wild flowers to the Strand where Kathy and her cousins would play on the long sandy beach.
A call from the house would beckon them back to a meal cooked on the turf burning range - at that time in the 1950's there was still no gas or electricity and water was drawn from the well. Life was very simple - but also warmly communal.
As you can see in the funeral eulogy, much of Kathy's character was formed by her Irish heritage.
She returned to the old places in 1996 and then again in 2006 shortly before her diagnosis.
Click here to see a slideshow with music. It is composed of pictures taken mostly by Kathy and Mel. The line drawings were by her father Eric, part of a record of his first visit to Ireland with the new wife who was to become Kathy's mother.
Make a donation to