A tribute to our mother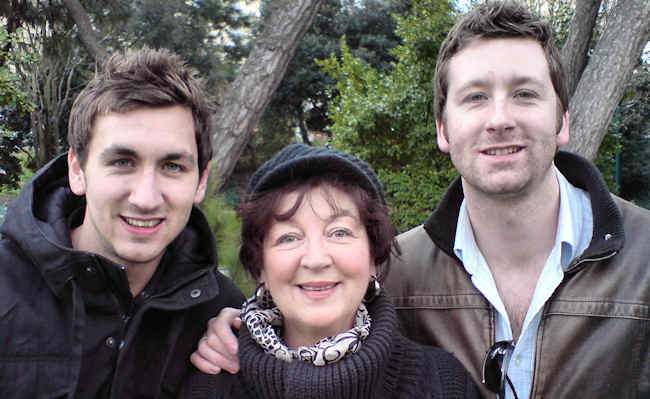 This is the speech prepared by Tim and Laurie and read by Tim at the funeral service.
Our Mum meant a lot of different things to many people but we wanted the opportunity to express how special she was to us.
As Kathy's sons we feel honoured and privileged to have had such a mum. On behalf of Laurie and me, I would like to share with you a few of the things that made mum such a wonderful person and most importantly for us a great mum.
As little boys mum taught us how to be caring, loving and sensitive to others and this was the fundamental core that made her such a supportive and special mum. Always putting us before herself she instinctively made sure that we felt loved, protected and happy.
Some of our fondest memories with mum as children came from special occasions like Christmas and Easter where her inner child and unique imagination would make these times seem magical.
Despite being a single mum working full time and looking after her two little monkeys, she always managed to provide and maintain a happy home.
Holidays and journeys always felt like an adventure. The combination of mum's spontaneity and our mischievous nature often led to exciting and memorable moments. Like the time we camped in the Isle of Wight and the wet and wild weather forced Angie, Natalie, Mum, Laurie & I to bundle into one tent as the other floated down field - or the night time race across Athens to see the Acropolis in all its majesty - or the edge of your seat drive through the twisted and mountainous roads of Gran Canaria spurred on by mum's sense of adventure. Experiences like these have granted us memories that we will cherish and recount time and again.
Mum also had a fantastic sense of humour and loved silliness. Throughout our childhood she would make up songs and nicknames that brought much amusement and laughter. She taught us to not take life too seriously and always have fun. This attitude was apparent right throughout her life. Even towards the end she would still joke with us. On one occasion this summer when I asked 'how do you feel mum' she replied 'with my fingers'.
Her encouragement and reassurance to chase our goals and do the things that make us happy has helped shape our lives. Her zest for travel and a desire to learn continues to inspire and motivate us and where ever we go in our lives we will be sure to take her with us.
We will miss you mum so very very much and not a day will pass where we won't think of you and all the wonderful things you have taught us, the times we've shared together, and the love you have given us. We will make the most of our lives and continue to make you proud and through any children we may have pass on all the things that you gave us.
As she said only a month or so ago when words and thoughts didn't always match perfectly, 'You'll never be lonely in the winds of the night. I'll be a little pinnochio watching from the side.'