The Fire Station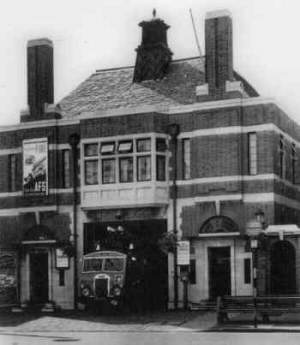 The Fire Station in the late 1950's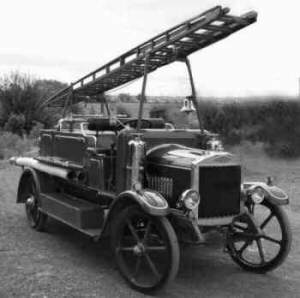 Dennis fire engine of the type acquired in 1927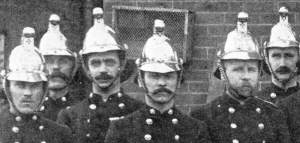 Yes - they wore those helmets in action!
Winton had its own fire station for less than sixty years. The current station at Redhill was opened in 1960.
The first ever Winton fire station was established in 1903 - it was a lockup shed in Withermoor Road. The firemen were all volunteers and the fire engine was a horse drawn pump - we haven't yet discovered if it was worked by hand or steam.
Maxwell Road
A few years later the shed was replaced by a more substantial single-bay fire station in the Council Depot at the end of Maxwell Road.
Although it was better than the old lockup shed, the Maxwell Road station had no proper living accommodation to allow it to function effectively any time of day or night.
The council came under pressure to do something about this, but refused.
Under pressure, officials finally came up with a plan for combined fire station and public convenience at the top of Peter's Hill. This was approved in 1926 and construction work began a short time later.
The Maxwell Road complex also for a time included a police station and continued to operate as a Auxiliary Fire Service base through the second world war - finally closing in December 1944.
Peter's Hill
It was decided that the new fire station would need a new fire engine, so an appliance was ordered from Dennis at a cost of £650.
The new Winton fire station never had an official opening ceremony, but offered living accommodation to two firemen and their families. At the back of the station was a yard and garden which still exists.
The first fireman and his family moved in with the new fire engine in December 1927.
The fire station served Winton and the surrounding area right through the war years and into the 1950's. In 1956 Station Officer Jim Collingbourne died while fighting a blaze on the East Cliff.
After its closure in 1960 the building briefly served as a police station.
The building is currently owned by the University and is used as a storage facility. There is a picture on our "then and now" page.
Redhill
The current fire station was opened in 1960. It was built on a plot that had once been a large pond where local lads caught newts. The pond had been filled with bomb rubble from the disasterous town centre air raid of May 1943.
For more about today's fire station and what it does, see our Fire Service page.