Wartime Winton 1914-18
Unlike the Second World War, which struck Winton's civilians and their homes, the "Great War" of 1914-18 almost exclusively took its toll from the ranks of young men who enlisted to fight for King and Country on the battlefields of Flanders and France.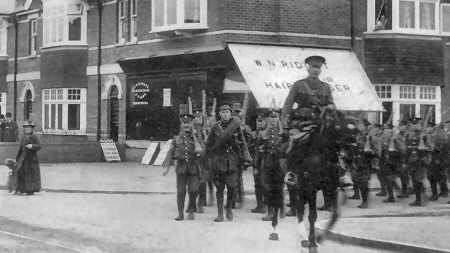 Alma Road 1915
The human cost was horrific. As in most other towns and villages, there would not have been a family in Winton who had not lost a relative or the son of a friend. Many men returned after the war mentally scarred by their experiences for the rest of their lives. Nearly half of the Winton lads who took part in Baden-Powell's Brownsea Island experiment were to die as a result of war wounds or gassing. No less than eleven members of the choir of St John's Church lost their lives as soldiers in the Great War.
A survey of the war memorials of the three parishes of St Luke's, St John the Baptist, and St Alban's yields a total of approaching three hundred dead across the Winton, Moordown and Charminster area. The real total is almost certainly considerably more than this. The list of names shows sometimes as many as four from the same family. In some cases it was brothers. In others it was uncles, cousins and even fathers and sons.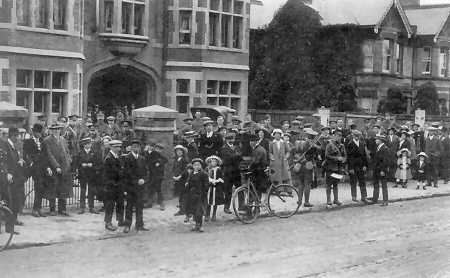 War breaks out in August 1914. Waiting for news. Hants Regiment Battalion HQ Holdenhurst Road
Many local young men enlisted for the Hampshire Regiment and signed up at the 7th battalion headquarters building which still stands in Holdenhurst Road. The Royal Welsh Fusiliers were also billeted in the area for some time. Two of them (Captain Frederick Barter and Staff Sergeant Joseph Davies) went on to win the Victoria Cross in France and subsequently return to Bournemouth in later life to retire.
The Fusiliers and other units conducted firing practice on a rifle range at Winton Rec.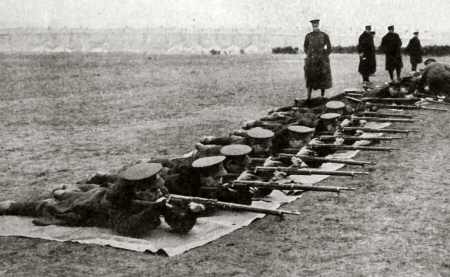 Rifle practice. Winton Rec
The experience of those who reached the battlefields is typified by the event that prompted a little-known memorial in the junction between Green and Firbank Roads.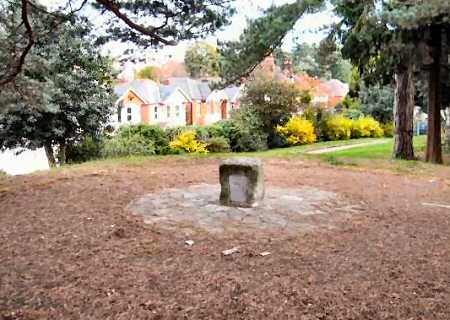 The memorial in the Fampoux gardens
The Fampoux gardens were opened by Major General Brooking on 21 April 1923 - five years after many soldiers of the Hampshire Regiment died in a heroic struggle to defend the village of Fampoux during the massive German Spring Offensive of March 1918. The operation cost hundreds of lives. Symbolically set up on a miniature hill is a simple stone marker bearing the words "These gardens laid out by ex-servicemen are named to commemorate the gallant stand of the Hampshires at Fampoux". Click here to read more about the history of the Fampoux Gardens.
Although local men served in many different regiments, the Hampshire Regiment was always considered the "local" one. It raised no fewer than 36 battalions and nearly all of them contained a large number of local volunteers. An appallingly high rate of casualties was sustained in all major offensives, such as Ypres, Loos, the Somme, Passchendale, and the Aisne, as well as in the disastrous Dardanelles landings. The Hampshires earned 56 Battle Honours in France and a further 34 in actions elsewhere.
The Commemorative Plaques





A transcribed list of the men of the three parishes who died in the 1914-18 War
ADAMS, JOSEPH
ALEXANDER, FRANK
ANDERTON, CHARLES
ANDREWS, ALFRED F
ANDREWS, PERCY W
ARNOLD, HUBERT F.
ARNOLD, P. CHARLES
AUSTIN, CHARLES H
AUSTIN, CYRIL
AXFORD, HENRY. F.
BAILEY, CHARLES
BAILEY, LEWIS
BAKER, ALBERT G
BALDWIN, J.D.
BALL, HENRY
BARNES, EDWARD.J.
BARNES, WILFRED
BARNES, WILLIAM
BARRETT, BERT
BARRETT, FRED
BARRETT, SIDNEY G
BARTER, LEONARD H J
BARTLETT, PERCY G
BATHO, JOHN 
BEALE, SIDNEY V
BEARE, LIONEL
BEAUMONT, ERNEST
BENNETT, HARRY C.
BILES, ALBERT
BLAIR, ALEXANDER M.
BLAKE, BERT
BLAKE, BERTRAM
BLAKE, CHARLES
BLAKE, WILLIAM
BLANDFORD, BERT L
BONDFIELD, WILLIE B
BRISENDON, ARTHUR C.
BUDDEN, RONALD
BURDEN, ARTHUR
BURDEN, HERBERT
BURNETT, WILLIAM
BURRIDGE,  HARRY S. P
BURSEY, JAMES
BURT, P. REGINALD
BUSCALL, ALFRED
BUSCALL, JOHN
BUTLER, LESLIE J
BYGRAVE, ROBERT
CAMPEN, ARTHUR
CARSWELL, EDWARD
CARTER, ARTHUR J.
CARTER, CHARLES
CARTER, THOMAS
CHAPMAN, HAROLD
CHEEVERS, MATTHEW
CHINCHEN, ALFRED H.
CLEMENTS, JESSE
COLE, ALBERT
COLLINGBOURNE, ROBERT B.
COLLINS, WILLIAM M
COOPER, ERNEST L.
COPELAND, ALBERT
CORKE, GUY HAROLD
COX, ALBERT C.
CROSS, JAMES
CROSSMAN, TOM

CURTIS, WILLIAM C
CUTLER, WILLIAM G.
DAVIDGE, ERNEST V.
DEAN, BERTRAM
DIFFORD, GEORGE F.
DONOVAN, E. M.
DOWDING, JAMES
DOWLER, GEORGE F
DOWLER, GORDON
DOWLER, REGINALD
DOWNTON, HARRY C
DRAKE, LEONARD W.
DREW, HERBERT. W.
DUFALL, GEORGE
EDWARDS, GORDON
ELLIOTT, JACK
ELLIOTT, TED
EVANS, HERBERT
EVANS, WALTER
FANCY, REGINALD J. T.
FELTHAM, HENRY
FOSKETT, CHARLES A.
FOX, THOMAS HENRY
FRY, FRANK G
FRY, HENRY
FRY, LEONARD G
FRY, MARK W
FRY, VICTOR
FULFORD, ARTHUR F. J.
FULLER, CECIL T
GALLOP, ALBERT R
GALLOP, ALPHONSO
GALTON, PERCY
GARDINER, HARRY
GARDINER, RICHARD
GORRINGE, MERVYN
GREASLEY, JOHN N.
GREEN, SIDNEY A.
GREEN, STANLEY
GROVES, CHARLES
GRUNDY, LEONARD E. F.
GUNNINO, WILLIAM
GUY, ERNEST
GUY, GILBERT  L
GUY, WILLIAM
HAMILTON, EDWARD
HAMMERTON, HARRY H
HAMMOND, JOHN M.
HARCOURT, WILLIAM
HARDY, W.
HARMER, JOSEPH C
HARMER, WILLIAM E
HARRIS, ALFRED E.
HARRIS, ARTHUR C
HARRIS, WILLIAM JOHN
HAWES, ERNEST T
HAWKES, ERNEST
HAYES, SIDNEY
HAYWARD, PERCY T.
HAYWARD, WILLIAM H.
HEWLETT, GEORGE A.
HILL. IVOR BERT
HINCHCLIFFE, RONALD
HOLLAND, ARTHUR H
HOLLOWAY, WILLIAM F.
HOOSAN, GEORGE

HORLOCK. HENRY G.
HUNT, ALBERT W.
HUNT, JOE
IVAMY, C FRANK
IVAMY, GEORGE
IVAMY, GEORGE F
JAMES, ALBERT J S
JEFFERIS, FRANK S.
JONES, LEONARD H
JOY, PATRICK
JUBB, CYRIL O. D.
JUDGE, SYDNEY M.
KELLAWAY, FREDERICK W. J.
KENTELL, IVOR F
KING, EDWARD
LATHAM, PERCY
LAW, SIDNEY
LAY, GEORGE
LEADLEY, PERCY G.
LEGG, HAROLD C
LIGHTFOOT, ARTHUR G.
LINTER, OWEN GEORGE
LOGSDAIL, HUGH
LONG, ALBERT E
MACDONALD, RONALD M.
MACEY, EDWIN H. V
MARLOW, CHARLES
MARLOW, HERBERT R.
MARTIN, ARTHUR JOE
MASON, ERIC HAROLD
MEARING, FRANK
MEARING, FRANK P
MEECH, SIDNEY G.
MILLER, CHARLES E
MONCKTON, ALBERT
MUSGRAVE, WILLIAM
NEWMAN, ALBERT H
NEWMAN, GEORGE R
NEWMAN, GEORGE.R.
NEWMAN, W. WILFRED
OSBORNE, ALBERT
OSBORNE, HERBERT
OSBORNE, WILLIAM G
PARKER, WILLIAM W.
PEARCE, REGINALD G
PEARCE, REGINALD G.
PEATY, WILLIAM H
PECK, ROLAND H
PEEKE, OSCAR P.A.
PERRETT, ERNEST
PERRIAM, ALBERT S
PETTIS, WALTER W
PETTITT, EDWARD
PHILLIPS, W. CHARLES
PICKERING, ARTHUR L.
PITWOOD, HARRY
PLOWMAN, LEONARD D
RANCE, THEODORE W.
RANDALL, EDWIN S
RAY, DENTON
REY, ERIC C
RICE, FRANK
RIGLER. HERBERT T.
ROBERTS, FREDERICK J
ROFFEY, FREDERICK
ROLLS, TOM

ROSE, LEONARD A. C.
RUFF, HERBERT B.
SALTER, WILLIAM G.
SAUNDERS, NOEL M.
SCOTT, LEONARD
SHILCOCK, HENRY E.
SHILCOCK, REGINALD
SHINAR, ALFRED
SHIRLEY, LEONARD J
SINGLETON, HAROLD F.
SLATER, RONALD
SMITH, ERNEST
SMITH, HAROLD P. E.
SMITH, PERCY
SMITH, WALTER E
SPENCE, BERTRAM
SPENCE, BERTRAM
SPICER, DICK
SPICER, HAROLD
SPICER, SAMUEL
SPICER, VICTOR W. O.
SQUIBB, HERBERT G
STACEY, WILLIAM
STARKE, HAROLD
STEELE, FREDERICK C
STONE, CHARLES D
STYLES, WILLIAM
SYMES, PERCIVAL E
TAYLOR, WILLIAM G
THOMAS, FRANK H.
THOMPSON, HAROLD
THOMPSON, STANLEY
THOMSON, JOSEPH
TILLER, GEORGE
TOLLEMACHE, H. M.
TOWNS, JOHN
TRIDGELL, CECIL EDWIN
TRIMBY, WILLIAM G.
TRIVETT, FRANCIS C
TURNER, FREDERICK
TURNER, FREDERICK J
TURNER, GEOFFREY
TURNER, JOHN R.
USHER, SIDNEY.J.
VINCENT, THOMAS
VINE, HARRY
VINE, MALCOLM W.
VIVIAN, FRANK
WALKER, BERTRAM
WARE, W. FREDERICK
WAREHAM, GEORGE F
WARNER, WILLIAM
WATKINS, THOMAS
WATTON, WILLIAM J
WESTCOTT, HARRY
WICKENS, GEORGE
WILKINS, RONALD
WILLIAMS, EDWARD S
WILLIAMSON, ALBERT
WILLIS, CHARLES
WILLIS, CHARLES W. E.
WILSON, ARTHUR A
WISE, EDWIN
WRIGHT, BERNARD T
WRIGHT, WILLIAM S
ZEBEDEE, CHARLES

Three local men were awarded the Victoria Cross in the two World Wars. Read all about them here.
Winton in the Second World War
Click here for the full story of how people got by in the face of rationing and air raids. We even tell you the streets where the bombs fell.