Wartime Winton 1939-45
Evacuation Zone
Considered a relatively safe area, almost as soon as war broke out in 1939 Bournemouth received busloads of children evacuated from Southampton. The first to arrive and be put up in the Winton area were pupils from St Anne's Girls Secondary School who were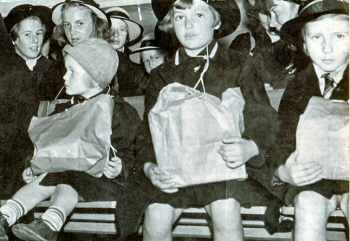 accommodated at Talbot Heath. Next came pupils from Taunton's Secondary School who were to share the newly opened Bournemouth School for Boys.
Taunton's was the largest school in England to be evacuated, and among the children was future comedian Benny Hill. He always spoke of the kindness shown locally to the evacuees. Over the coming months, many of the children returned to their home town.
The next wave of evacuees came in early June 1940 as the German army swept across France. Over a period of several days, Winton suddenly found itself host to hundreds of French soldiers who had been ferried across the channel to avoid surrender at Dunkirk. Most were billeted at local schools including Malmsbury Park and Alma Road. Many were invited to share meals and hospitality with local Winton families.
There were queues for baths at Stokewood Road and entertainment was put on at the Winton YMCA. The Frenchmen were showered with gifts and barbers even gave them free shaves and haircuts. By June 12 they had all been moved to camps elsewhere and life returned to normal.
Between 19 and 26 June the same operation was repeated - this time it was mostly British soldiers who had been fighting a rearguard action to protect the Dunkirk evacuation. They had been shipped across the channel from Dieppe and Cherbourg.
For details of wartime Charminster click here.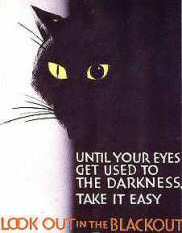 The Blackout
The blackout was introduced in July 1939. The idea was to make towns invisible to enemy aircraft at night time, but it had a side effect of causing road accidents in the darkness.
Street lights were switched off, headlamps were masked and all widows were sealed at night with lightproof material.
Traffic lights were switched off across Bournemouth. They werre left on at only seven locations. One of them was Winton Banks, and another was Cemetery Junction. The blackout was not relaxed until the autumn of 1944. The majority of street lamps were still gas.
Air Raid Precautions (ARP)
ARP wardens were familiar figures with a number of responsibilities including issuing gas masks, checking that lights were covered during the blackout and dealing the the effects of bombing. Garages, sheds, shops and other buildings served as ARP warden posts.
Winton was in the Northern of the three Bournemouth divisions. Its headquarters was at the Embassy Club in Brassey Road.
Air Raid Defences
If not always a target, Winton was under the regular path of German bombers heading north towards the Midlands. A number of anti-aircraft guns were frequently moved in under cover of darkness and then hidden again during the day. A large searchlight scoured the sky until it was destroyed by an enemy fighter that flew down its beam with guns blazing. Click here to read more about the air war above Winton.
Air Raid Sirens
The authorities expected to get 22 minutes warning of approaching enemy aircraft. Within ten minutes the alarms would sound an alert and ten minutes later wardens would be on patrol (or taking cover at their posts). When the danger was over, an "all-clear" would be sounded. The sirens audible in Winton were on the roofs of the Fire Station, Bournemouth School for Boys and at an ARP post in Richmond Park Crescent. At the start of the war the sirens were operated manually, but by the summer of 1940 they had been converted to remote control through the telephone lines. Tests were carried out on the first Monday of every month at 2 in the afternoon.
Raids
Bournemouth had its share of bombing during the Second World War. More than fifty air raids left 219 people dead and 726 injured. Two thousand two hundred and seventy bombs rained down on the town, destroying around 250 buildings. Another 13,590 needed repairs.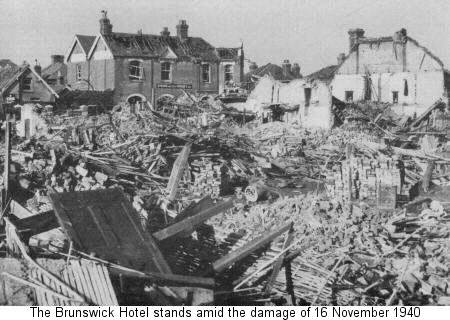 Winton's worst raid was at 3.30 in the morning of November 16, 1940. A member of the Home Guard on duty at Moordown bus depot claimed in the moonlight to have opened fire on an aircraft with Italian markings. Records suggest this was a purely German attack - there were no Italian units in flying distance.
Parachute landmines were dropped on the Alma Road, St Leonards Road and Malmesbury Park Road areas. More than 50 people were killed and around 150 injured in the raid which also hit other parts of the town.
Alma Road Elementary School was destroyed by a direct hit and a number of houses were flattened in and around Kings Road.
The Fitzharris Avenue Methodist Church had its windows blown out and the weather cock on top of the Winton Banks Plaza cinema was never the same again.
Services and Sunday School for the Methodist congregation were provided at the St Lukes Church Hall until the chapel had been repaired. Local people made homeless in the raid were offered help at the Winton YMCA in Jamieson Road.
Here's a summary of the rest of the raids that Winton suffered:
March 12 1941. 8.45PM. Bombs dropped on Portland, Murley and Ripon Roads. Two people killed and sixteen injured. More than 700 houses damaged and a water main burst.
March 14 1941. 11.50PM. One bomb hits Hillcrest Road. Twenty eight houses damaged but nobody injured.
March 15 1941. 2.05AM. One bomb damages 19 properties in Gerald, Grafton and Iddesleigh Roads . Three people suffer minor injuries. Two more bombs hit the Wimborne Road area - one lands in the cemetery and the other damages an ARP warden's post.
March 27 1941. 12.20PM. Three people injured and 101 properties damaged as bombs hit Lowther and Methuen Roads. Houses in Alma Road are evacuated because of unexploded bombs.
May 10 1941. 0.45AM. Incendiary bombs fall on Fernside Road, Strathmore Road and The Avenue, Moordown. No damage.
August 12 1943. 1.10AM. Thirteen people killed and more than 1400 buildings damaged as bombs fall on Boundary, Beswick, Spring and Shelbourne Roads, Charminster Avenue and Strouden Avenue.
November 1 1943. 5.45PM. One person killed, 27 injured and 1284 buildings damaged as bombs are dropped on North Bournemouth. Areas affected in Winton/Charminster include Heron Court, Gerald, Chatsworth, Bennet, Orchestron, Shaftsbury and Shelbourne Roads.
April 24 1944. 2.17AM. The area's last air raid of the war. There were incendiary and/or unexploded bombs in Strouden, Beatty, Portland, Gresham, Shelbourne, Sutton, Malvern and Holdenhurst Roads. Two people died, seven were injured and 156 properties were damaged.

Danger from the air did not necessarily just come from the Luftwaffe.
Just after midnight on 22 March 1944 an RAF Halifax bomber developed problems as it was taking off from Hurn.
Fully fuelled and armed it came in low over Malvern Road and crashed in Wimborne Road destroying several houses and a block of flats opposite the Hollies pub. The crew and two civilians were killed in the crash.
Click here to read an eyewitness account of this tragedy.
Fighting the fires
The full-time fire brigade was supported by the volunteer Auxiliary Fire Service which had been created just before the war. Bournemouth was split into seven AFS zones. Winton was in Zone Five, with its headquarters at the Maxwell Road Corporation Depot.
A number of large emergency water tanks known as Static Water Supplies (SWS) were constructed around the area to feed the fire pumps. One of the largest was beside Winton Library. It held 84,000 gallons. Together with others including one next to St Luke's church hall, the tank was fed by a white painted steel pipe leading to a pumping station at Redhill.
Observation posts were set up on the Wimborne Road rooftops of Talbot Court and the Moderne Cinema to help guide emergency workers to the locations where they were needed.
Family Air Raid Shelters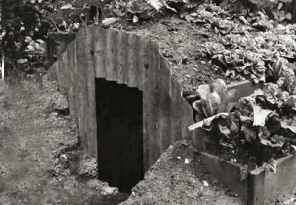 The Anderson shelter consisted of pre-formed corrugated iron walls and sides which were either buried or covered with earth in your garden. By the end of 1940, millions had been distributed all over the country.
The shelters were free if you earned less than £250 a year, but you had to pay a £7 charge if you were on a higher income. The rusting remains of Anderson shelters can still be found in some local gardens.

Named after Minister of Home Security Herbert Morrison, the Morrison shelter was introduced in 1941 and supplied on a similar cost basis to the Anderson. It was essentially a bombproof steel mesh cage which a small family could just about sleep inside. Normally erected in the living room it doubled as a table. They took up a lot of room, but Morrison shelters were only officially allowed to be removed in 1945.
Communal Air Raid shelters
Public shelters were constructed for people who did not have their own shelter, or were in transit at the time of the alert.
Air Raid Shelters in the Winton area (February 1942)

Location
Type
Accommodation
Classification
Bunks
Plaza Cinema, Winton
B
125
18
Tice's Garage, Moordown
GF
200
Dormitory and Canteen
36
Co-Op Store, Winton
B
155
Dormitory and Canteen
30
Fiveways Hotel, Charminster
B
50
9
Talbot Hotel, Garage
GF
93
Willis Showrooms, 965 Wimborne Road
GF
55
912 Wimborne Road
B
67
15
1-3 Crimea Road
B
173
Dormitory and Canteen
33
280-288 Charminster Road
B
200
Dormitory and Canteen
36
Winton Recreation Ground
S
150
Malvern Road Playground
S
58

B = Basement Shelter GF = Ground Floor Shelter S = Surface Shelter
Rest Centres
After a raid, a number of people could be expected to have had their homes either destroyed or rendered temporarily uninhabitable. This could be simply because of a ruptured gas or water main in a nearby road. To help these people, "Rest Centres" were established. The ones serving the Winton population were at :
St Walburga's RC School. Moordown
St Albans Church House, Charminster
Charminster Senior School, East Way
Winton and Moordown Council School, Coronation Avenue
Bournemouth School for Boys, East Way
Stokewood Road Baths

YMCA, Jameson Road
Auxiliary Rest Centres were at:
| | | |
| --- | --- | --- |
| Moordown Congregational Hall, Malvern Road | Embassy Hall, Brassey Road | Winton Recreation Ground Bowls Pavilion |
These were the official instructions issued to bombing victims in 1942:
If you have been rendered homeless, and you are not able to go to friends or relatives or make other arrangements, you should go to the nearest Rest Centre or Auxiliary Rest Centre. The Air Raid Wardens and Police will direct you if you are in doubt where to go.
Rest Centres and Auxiliary Rest Centres in any locality where an incident takes place will be opened. If the raid should be a heavy and sustained one all Rest Centres and Auxiliary Rest Centres will be opened.
At Rest Centres and Auxiliary Rest Centres you will be able to shelter and rest until other arrangements can be made.
At Rest Centres sleeping accommodation and food will be provided.
At Auxiliary Rest Centres hot drinks will be provided, but not sleeping accommodation or food.
Clothing: Supplies of emergency clothing will be available at Rest Centres and Auxiliary Rest Centres.
48-hour billets: Representatives of the Women's Voluntary Services will attend at the Rest Centres and Auxiliary Rest Centres which may be opened with lists of billets to which homeless persons may go for a short period (not exceeding 48 hours). Homeless persons who may be willing to go to such billets will be conducted or taken there by the Women's Voluntary Services representatives.
Official Billeting: Official billeting officers will attend at the Rest Centres which may be opened (but not at the Auxiliary Rest Centres) to billet homeless persons for whom such accommodation may be required. The payment of billeting allowances is intended to be a temporary measure operating only until the homeless persons are able either to return home, or to obtain accommodation of their own or to make their own financial arrangements with their hosts. Except in the cases of persons who are in receipt of an allowance from the Assistance Board or Supplementary Pension, Billeting Notices will in the first place be issued for a period not exceeding two weeks. The question whether a billeting notice should be reissued after this period will be for the billeting authority to decide according to the circumstances.
Information: Information Officers will attend at the Rest Centres and Auxiliary Rest Centres which may be opened to give information and advice.
Travel Vouchers: If you can make arrangements to go and stay with friends or relatives you will be given a free travel voucher if you cannot get to them without help. Enquire about this at the Rest Centre of Auxiliary Rest Centre to which you may go.
Have your plans ready. If you have not already done so, you should try to make plans now to go and stay with friends or relations in case your house is destroyed. They should also arrange to come to you if their house is destroyed. The usual billeting allowances will be payable in such cases.
Rationing and food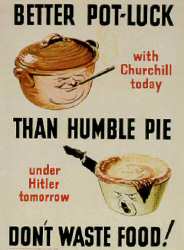 Most forms of food were rationed by the middle of 1941 and it became an increasing problem to cook meals with any variety.
Meals eaten at restaurants or industrial canteens, on the other hand, did not require the use of any precious ration coupons. This in part led to the popularity of self-service "British Restaurants" run by local authorities as a means of preparing good but cheap meals for a large number of people.
Bournemouth's first British Restaurant was in Winton. It was opened in August 1941 in the repaired former Girls School building in Alma Road.
You could buy a three course meal for less than a shilling (5p) and it rapidly became very popular. Originally seating 200, it ended up serving around 500 lunches a day.
Winton got its second British Restaurant the following month at the Co-operative Hall in Latimer Road.
Salvage
A campaign to save paper was launched in 1942 and it became an offence to destroy or throw away paper and cardboard. One of the ways of collecting paper was to invite people to create lines of unwanted books along the pavement. One was started outside the Hollies in Wimborne Road. The collected books were then sorted for pulping or despatch to libraries or the services.
And from the point of view of someone who lived through it ......
Read this personal account of life in Winton during the war years. It includes the devastating raid of November 16, 1940
Killed in Action
Here is a list of servicemen from the Winton/Charminster area who were killed in action during the Second World War. Most of it was drawn from the war memorials of St Lukes and St Albans churches and may not be complete.
Adlam, Cyril W
Ashton, John F
Bagnall, Joseph
Barrow, Jack E
Beach, John G
Blakeman, John G
Cross, Frederick T
Cutler, Arthur
Cutler, Aubrey J
Deavin, Gerald
Evans, Arthur
Fudge, Gordon D
Hanks, Reginald A
Helps, Trevor
Hibbin, Arthur E
Hounsell Carr, David
Jones, Arthur E
Leedham, William
Love, Robert
McCausland, Robert
Murdoch, Frederick H M
Parkes, John
Parr, Robert
Powell, Richard
Ryde, Walter F
Saunders, Roy
Scott, Richard D
Spencer, Douglas
Stacey, Stanley T
Tucker, Edward
Turner, George
Verrier, Alfred R
Vincent, William
Wheeler, Richard H

Winton and the First World War
Click here for pictures of the time and reports of the terrible toll on local lives.